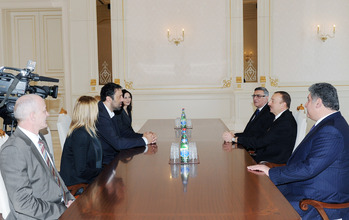 Head of Azerbaijani state indicated that bilateral relations between Azerbaijan and Serbia were developing successfully.
Saying that the countries have established a strong partnership, President Aliyev recalled with satisfaction the visit by Serbian President Boris Tadic to Azerbaijan and his own visit to Serbia, noted the importance of mutual high-level visits for the expansion of ties. The President stressed the need for a broader cooperation between the two countries in the field of sports.
Expressing satisfaction with his first visit to Azerbaijan, Vlade Divac thanked President Ilham Aliyev for the work our country is doing to develop the region he represent. He emphasized the importance of expanding humanitarian cooperation between the Azerbaijan and Serbia.
Then Vlade Divac said President Ilham Aliyev was being decorated with the international award of a "True friend of the Balkans", established by "Foundation Ana and Vlade Divac" for a valuable contribution to the development of multilateral relations between Azerbaijan and Serbia and other Balkan countries, for a special contribution to the development of relations between Azerbaijan; and Balkan peoples, reconstruction and improvement of Tasmajdan and Bajrakli parks, establishment of a statue of outstanding Azerbaijani composer Uzeyir Hacibayli and construction of the Holly Petco temple in Novi Sad, reconstruction of the house of Culture on Novi Pazar, reconstruction and improvement of Baku Street and Friendship Park IN Sarajevo, provision of humanitarian aid to mother and child clinic under the Centre for the protection of infants, children and young people in Belgrade and to the refugees settled in the region of Vojvodina, provision of humanitarian aid to those affected by floods in the region of Virpazar in Montenegro, provision of comprehensive support for the publication of Azerbaijani –language "Dictionary of the Khazars" by famous Serbian writer Milorad Pavic, the decision to establish a statue of famous Serbian scientist Nikola Tesla in Baku, and for an exemplary contribution to the convergence of different cultures, strengthening of humanity, charity and religious tolerance/ then Vlade Divac presented the award to the President of Azerbaijan.
Expressing his gratitude for the award, President Ilham Aliyev regarded it as evidence of Azerbaijani-Serbian friendly relations.
The delegation led by the Chairman of Olympic committee of Serbia and founder of "Foundation Ana and Vlade Divac" Vlade Divac paid visit to the Embassy of Serbia in Baku.