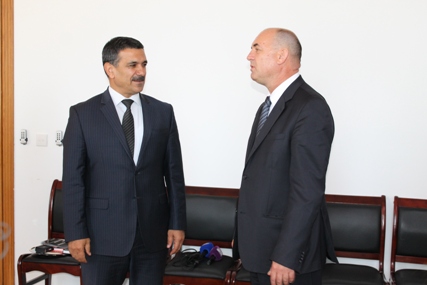 The Ambassador of Serbia first visited the monument of national leader Heydar Aliyev in Xojavend district and laid flowers. Then Ambassador Vajović has welcomed by the Head of Xojavend Executive Authorities Mr. Eyvaz Huseynov. Mr. Huseynov informed the Ambassador of Serbia on the Armenian-Azerbaijani, Nagorno-Karabakh conflict and its consequences, told about the done works on improvement of living conditions of the refugees and IDPs. He noted that Xojavend district was occupied by Armenian armed forces in 1992. 145 inhabitants from Xojavend became shehids in Karabakh War, more than 300 people lost their health. Now Xojavend's inhabitants are displaced in 36 regions of the country as IDPs. In recent years in the Beyleqan district was built the family settlement for the refugees from Xojavend district, a lot of things are made for improvement of their living conditions. But the biggest dream of Xojavend people are eager to return to the motherland. E.Huseynov with regret noted that Armenia doesn't observe the norms and principles of international law, implementation of 4 UN Security Council resolutions.
Ambassador of Serbia Mr. Z.Vajovic thanked for the warm welcome and information on the Armenian-Azerbaijani, Nagorno-Karabakh conflict. "The purpose of my today's visit - to meet with IDPs from Xojavend district on the eve of the 21st anniversary of occupation of the region, to get information on the activities in improving the living conditions and strengthening social protection of IDPs and get more detailed information on the Nagorno-Karabakh conflict". "Serbia and Azerbaijan endured the similar destinies, both states faced separatism. Serbia recognizes territorial integrity of Azerbaijan".
Then the Ambassador has visited homes of some shehid's families, was curious about their life, visited high school of Salaketin village and regional central hospital.