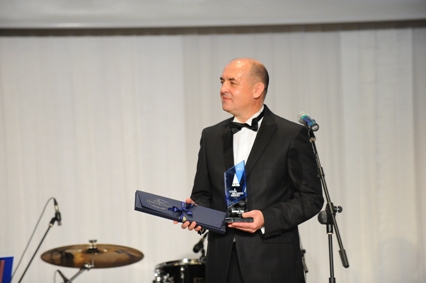 At the award winning ceremony of the prominent Azerbaijani periodical Business Time, held on December 14, 2013, in the luxurious Baku hotel Fairmont, the head of the periodical, Mamad Hajiev, bestowed upon the Serbian Ambassador in Azerbaijan, Mr. Zoran Vajović, the "Azeri Business Award 2013", for his contribution to the advancement of economic, business and trade relations between Serbia and Azerbaijan. The award winning committee had pointed out that during the two and a half years since Ambassador Vajović opened the Embassy of Serbia in Baku, the business deals, the infrastructure projects and loans,and deals in the defense industry between Azerbaijan and Serbia amounted to cca. 450 million Euros, while the trade between the two countries, which in 2010 was only a few millions of Euros, exceeded 100 million Euros. There have been several business forums between the two countries, attended by over 600 people, and more than 200 businessmen from Serbia participated in trade fairs and business meetings in Azerbaijan, and contracted deals with Azerbaijani partners.
More than two hundred guests – government officials, business and diplomats were present at the award winning ceremony. Accompanying Ambassador Vajović at the diplomatic table were Ms. Melahet Ibrahimgizi, MP and head of the Inter-Parliamentary Friendship Group between Serbia and Azerbaijan in the Parliament of Azerbaijan, Dr. Asim Molazade. MP and Chairman of the Democratic Reform Party of Azerbaijan, Ambassador Pervin Mirzazade, Director of the State Protocol Department from the MFA of Azerbaijan, Ambassador of the United Arab Emirates H.E. Mr. Salem K. Al Eghfeli, Ambassador of Morocco Dr. Hassan Hami and Ambassador of Moldova H.E. Mr. Igor Bodiu.
Business Time magazine, annually awards prizes to successful companies, innovators, exporters, public figures and ambassadors of foreign states accredited in Azerbaijan for development of business relations between the states they represent and Azerbaijan.
For more details http://btime.az/page.html?id_node=375&id_file=4772
http://btime.az/page.html?id_node=390&id_file=4773