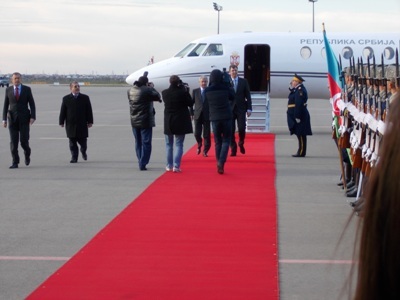 Serbian Prime Minister Aleksandar Vucic said today, 15 April, he was very pleased with friendly relations with Azerbaijan, and emphasized that the visit of the country opened up opportunities for better cooperation, new investment and infrastructure projects.
Vucic spoke to journalists at the end of a two-day visit to Baku, where he met with state officials of Azerbaijan and representatives of big companies from this country, said that the Serbian delegation made a good impression.
He stressed that our country has a great chance to make a good job and to develop better cooperation with this country, but also noted that it primarily depends on us and our responsibility and commitment.
Serbian delegation came to Baku with a list of companies for privatization by major Azerbaijani companies, which was discussed during the visit, and to some of them have shown interest, said the Prime Minister.
He announced that the part of the representatives of Azerbaijan will arrive next week to Belgrade, and pointed out that Serbia gives a great importance to any of the projects, realization of which are being discussed.
According to him, issues of chemical companies have already begun, and they also discussed Azerbaijan's participation in the privatization of Serbian agricultural companies.
Vuchich pointed out that companies from that country very successful in building roads, and also pointed out that the construction of the road in Lig-Prelina is the only project in Serbia which builds firm "Azvirt" and which can be completed before the planned deadline.
The Prime Minister said that during the two-day visit also discussed future infrastructure projects, and expressed confidence that the President of Azerbaijan Ilham Aliyev will visit Belgrade till the end of the year, and will together be able to visit the final works on the highway section Lig-Chachak.
Serbia capital investments raises the gross of the domestic production, and troubleshooting infrastructure faults is one of the preconditions for a healthy economy, he reiterated.
Vuchich earlier today met with the leadership of the company "Azvirt", which works on the construction of the 11th Corridor in Serbia.