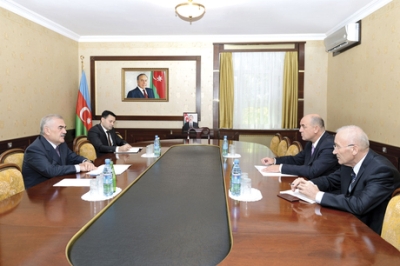 Ambassador Z.Vajovic met with the Chairman of the Supreme Assembly of Nakhchivan Autonomous Republic Mr.Vasif Talibov. During the meeting the Chairman reminded Armenia`s military aggression against Azerbaijan, which, he underlined resulted in blockading Nakhchivan for a long time.
He stressed that all fields of economy, including agriculture, industry, education, health and culture are being developed in the Autonomous Republic.
The chairman said a technical base of the scientific-educational institutions has been strengthened, adding important steps were taken towards integration into world education system.
He stressed the importance of Serbian Ambassador`s visit to Nakhchivan Autonomous Republic in terms of development of bilateral relations, and wished him success in his diplomatic activity in Azerbaijan.
Zoran Vajovic hailed the rapid development of Nakhchivan, the ancient land of Azerbaijan. The Ambassador noted national leader Heydar Aliyev importance in the foundation of independence and development of Nakhchivan and Azerbaijan prosperity and increasing its political and economic power. The Ambassador expressed satisfaction with the existing relations between Azerbaijan and Serbia, including economic and cultural ones, and said he will make every effort towards development of mutual relations with Nakhchivan Autonomous Republic.
Two sides have also exchanged views over the issues of mutual interest.
During two-days visit Ambassador Z.Vajović met with Mr. Asgar Ismayilov, the Head of the Department of the Ministry of Foreign Affairs of the Republic of Azerbaijan in Nakhchivan Autonomous Republic, Mr. Famil Saidov, Minister of Economic Development of Nakhchivan Autonomous Republic, and Mr. Elshad Aliyev, Minister of Agriculture of Nakhchivan Autonomous Republic and Rector of Nakhchivan State University Mr. Saleh Maharramov.
The Serbian diplomat visited number of industrial enterprises and places of interest – historical monuments, cultural institutions in Nakhchivan and Ordubad.
Mr. Milanko Bajceta, Counselor of the Embassy of Serbia in Azerbaijan participated at the meetings.